Noel Quiñones is a Puerto Rican poet, performer, and community organizer born and raised in the Bronx. He travels the country giving his talk "Beyond the Black/White Binary: The Inner Ethnic Conflict of Latinidad", seeking to explore the challenges that face Latinx people as well as the false narratives they carry in 21st century America.
As a writer he has received fellowships from CantoMundo, SAFTA (Sundress Academy for the Arts), the Poetry Foundation, Candor Arts, the Watering Hole, and LongLeaf Writer's Conference; he was also chosen as an Emerging Poets Fellow at Poets House in 2015. His work is published in POETRY, the Latin American Review, Rattle, Kweli Journal, Hot Metal Bridge & elsewhere. In addition, his poetry has been included in The BreakBeat Poets Vol. 4: LatiNEXT Anthology, Soul Sister Revue: A Poetry Compilation, the Best of Kweli Journal Anthology, and ¡Manteca! An Anthology of Afro-Latin@ Poets.
As a performer he has featured with The Ford Foundation, The Center for Puerto Rican Studies at Hunter College, The Poetry Gods, and BronxNet Television as well as performed at Lincoln Center's Out of Doors Festival, La Casita; the Nuyorican Poets Café, Write About Now - Houston, TX, Jawdance - London, and the Honolulu Museum of Art. Noel has been featured at numerous colleges, universities, and K-12 schools across the country, such as Harvard University, American University, and King's College London, in addition to various cultural art spaces, non-profit organizations, and conferences, having been the Keynote Speaker at the first NYC Latinx Youth Conference, 2017. He was commissioned by the 9/11 Memorial & Museum that same year to compose a poem honoring those who passed when the Towers fell, and most recently by UnidosUS to create new work uplifting the Latinx community during COVID. His performances have been showcased on Huffington Post, Vibe, Latina Magazine, Medium, TIDAL Music, Remezcla, Mitú & elsewhere.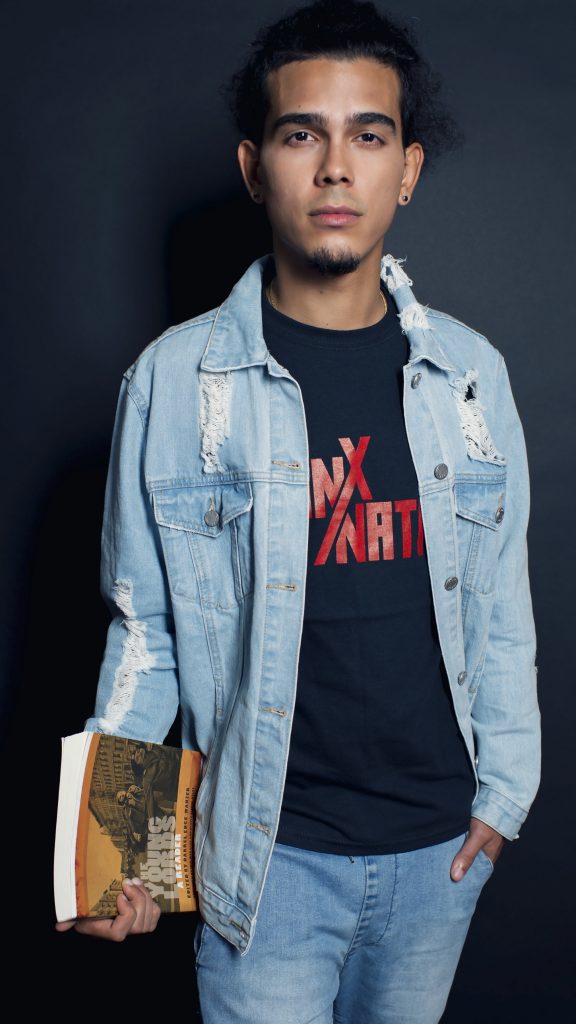 With almost a decade of experience in the arts, Noel grew tired of the lack of space dedicated to showcasing and empowering Latinx voices. In October, 2016 he founded Project X, a Bronx based arts organization providing the borough with monthly community programming, and the Bronx's own Slam Series to produce its first National Slam Team. For his community work he was named one of New York State's 40 Under 40 Rising Latino Stars by the Hispanic Coalition of New York in 2017 and a 2018 Intercultural Leadership Institute Fellow; traveling the country to connect with fellow artists, culture bearers, and arts professionals of color to network and gain essential tools to uplift our respective communities.
Quiñones is currently a second year M.F.A. candidate in poetry at the University of Mississippi where is working on his first full length collection of poetry as well as two novel length works.
Noel has spoken at numerous colleges, universities, and K-12 schools across the country in addition to various cultural art spaces, non-profit organizations, and conferences. He is available to speak on a variety of topics such as – being an AfroLatinx artist, creating and curating community spaces for POC, and interrogating gender, sexual orientation, and machismo as a Puerto Rican.
Harvard University
Columbia University
American University
New York University (NYU)
Boston College
Emerson College
Fordham University
William and Mary College
University of Vermont
University of Delaware
Wesleyan University
Ithaca College
Southern CT State University
Purchase College
Syracuse University
Bryn Mawr College
Swarthmore College
Medgar Evers College
King's College London
SOAS, University of London
Bishops School - San Diego
Fieldston School
Riverdale Country School
Calhoun High School
Saint Ann's School
Friends Seminary High School
Oldfields High School
Achievement First Bushwick Charter M. S.
Richard R. Green High School of Teaching
John Adams High School
Parkway West High School
St. Hope Leadership Academy M. S.
9/11 Memorial & Museum
Lincoln Center
New York City Poetry Festival
Nuyorican Poets Cafe
Teatro Pregones - Bronx
Write About Now - Houston
Institute of Contemporary Art - Philadelphia
Apples and Snakes - London
Philadelphia City Hall
Busboys and Poets Cafe - DC
Bowery Poetry Club
World Cafe Live - Philadelphia
Philadelphia Pigeon Poetry Slam
Philly Youth Poetry Movement
Suffern Poetry Slam
Advanced Poetry Slam
Philadelphia Museum of the Arts
Capicu Cultural Showcase - Brooklyn
Bronx Museum of the Arts
Bronx Council on the Arts - Poetry Town Hall
BronxNet Television OPEN Artist
Bronx Book Fair
Queens Literary Crawl - LIC
Astor Alive Arts Showcase
New York Writers Coalition - Write Aloud Series
Soul Sister Revue Reading Series
No Dear Reading Series
BronxLoaf Writing Conferece
Unidos Conference: Latinidad, The Power of Identity Panel
NYC Young Men of Color Symposium
National Latino AIDS Awareness Day
Community Resilience Symposium: Engaging Males of Color
In Our Own Voices Youth Conference
Latinx Youth Conference - NYC
We FREED Oscar Lopez Rivera Reading
Voices of La Isla: Celebrating Pedro Albizu Campos
TEDxSwarthmore, 2012: What Makes a Good Society?